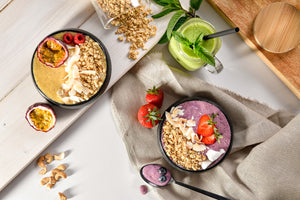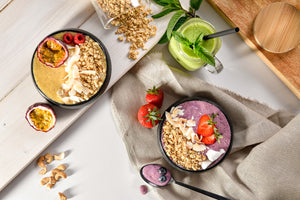 100 % Natürlich • 100 % Frucht • 100% Genuss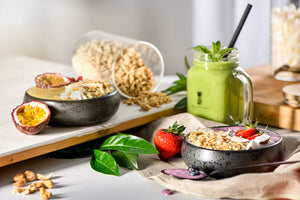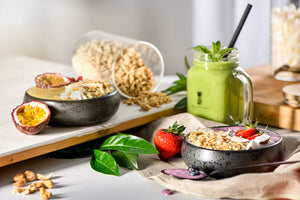 integrierbar in jede Gastronomie
SPECIALLY DEVELOPED FOR GASTRONOMY AND FOODSERVICE
With our products, life should be more varied, enjoyable, healthier and refreshing. This is what our heart beats for!

We offer you innovative premium products that are prepared in seconds. Frozen, finely seasoned, portioned and ready for the blender. With our concept, you can offer your guests a special freshness experience all year round.
pomom smoothies
combines lifestyle and health!
We have developed ready-to-use smoothie packs especially for gastronomy and foodservice. We offer full flavor from 100% natural fruits and do not use any additives, sugar or preservatives.
more about pomom smoothies ⇾
POMOM SMOOTHIE BOWLS
EAT GOOD - FEEL GOOD
With high-quality ingredients and perfectly coordinated recipes. Vegan smoothie bowls integrate the healthy lifestyle into your gastronomy in no time at all.
SHOP THE BOWL ⇾
Tasty Shakes
Soul food for your guests
The freakshake is conquering the gastronomy scene!
Create extra delicious milkshake creations with our Tasty Shakes.
More about Tasty Shakes ⇾
In our Cubs, POMOM Smoothies have become indispensable for both our employees and members. Not only are they super quick and easy to prepare, they also enchant our big and small members with their taste and are the perfect breakfast, snack or dessert.

David Lloys Club Bad Homburg / Fitness, Wellness & Day Spa

Jens Fortak - Clubroom Manager
Incredibly good idea that we had to implement immediately. Each smoothie is incredibly fresh and ready to enjoy in seconds. It doesn't matter which employee is there at the moment, it's very easy.

Once pomom, always pomom.

Moun10 Bakers GmbH

Benjamin Hasse – managing director
super quality and flavors that you would only be able to do yourself with a lot of time and effort! Perfect as a healthy addition to any breakfast, our guests love the smoothies as much as we do!

DAS GRASECK / boutique hotel

Dr. Sylvia Weingart – managing director
The Pano in Munich's Werksviertel - with us everyone will find exactly what is good for them: the best coffee, delicious breakfast, changing lunch menus and of course healthy smoothies & bowls! We have been working with POMOM since our opening in November 2020 and we love it. The handling is super easy, we serve super fresh smoothies and colorful smoothie bowls with minimal effort in the shortest possible time. Whether original superfood recipes or the latest ideas for the coming season, the Pomom team always comes up with creative ideas and advertising support. We love the uncomplicated cooperation and our guests love the enjoyment of 100% fruit.

Pano München

Paula Riedler – operations director
We are a healthy food store from Ravensburg, and we have been working with Pomom since the beginning because we want things to be quick and yet healthy. We use pomom for our delicious smoothie bowls which are freshly prepared for our customers. Our customers like it and we can save valuable time because the smoothie packs are already pre-portioned. What we were really happy about was the news that Pomom would like to change the packaging of the smoothie packs to an environmentally friendly version in the future - this fits perfectly with our philosophy of using products that are as sustainable as possible for production. So we look forward to a productive cooperation with Pomom in the future :)

Lilly Ginger
Super service, incredibly delicious smoothies & shakes, we are absolutely convinced and satisfied.

Altes Eiswerk Bremerhaven / Trampoline park - children's play park - restaurant

Nadine Harmjanssen - Geschäftsleitung